Part# 416555NR
The Dual ADJ octopus is made of lightweight technopolymer. It allows airflow adjustment and offers smooth and easy breathing at all depths. Oversize vent button and Superflex hose.
Part# GS010
DETAILS Single Valve Tube Construction Injection molded thermoplastic rubber seat Diver operated flow control switch Free Parts for Life (Restrictions Apply)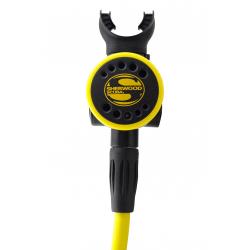 Part# SR8852
Where do I put my Octo? The answer to this question just got a whole lot easier with the Remora Octopus from Sherwood Scuba. The Remora Octopus comes standard with a magnetic octopus...